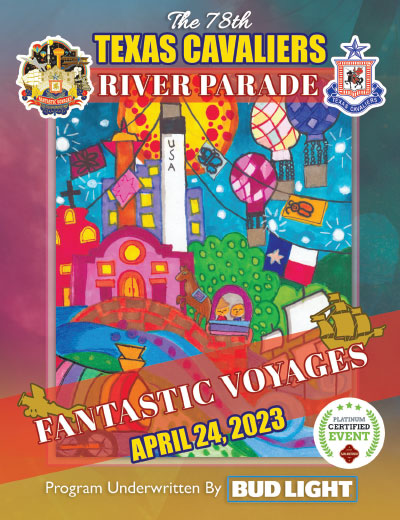 View the 2023 River Parade program
Interested in advertising?
Advertisers who help support the parade are also a significant group of community-minded companies who financially support the parade in order to make it possible for the Texas Cavaliers to give significant donations to over 30 children's charities in the San Antonio area each year. With the support of our advertisers and other sponsors, the Texas Cavaliers have given over $500,000 to Children's Charities just in the last three years and programs are distributed for free on the night of the parade. However, since demand for the River Parade program is so high and the programs are coveted by many Fiesta revelers, we suggest securing one early by ordering your copies now before they are all gone.
Many San Antonio companies eagerly look forward to putting their business or product in front of such a large audience as the Fiesta market. Readers enjoy the wide-ranging content in the program which includes a map of the parade route as well as historical information about the parade. The Texas Cavaliers River Parade program also outlines and highlights the many fantastic charitable community outreach programs the Texas Cavaliers engage in and support. The Program lists all the beautifully decorated floats and the various charities and organizations who will be riding on the floats.
For advertising information:
Contact our Program Chairman, our volunteer in charge of the program, at This email address is being protected from spambots. You need JavaScript enabled to view it.. They can assist you with placing any ads in the program and has full page ads as well as ¼ page ads available at the present time. Please contact our Program Chairman soon because the program ad space sells out very quickly each year and you would not want to miss an opportunity to advertise your company during this premier Fiesta event, The Texas Cavaliers River Parade will be held on April 22, 2024.
The Texas Cavaliers gratefully acknowledge the support of the San Antonio business community who advertise in the program and thank them for helping the Texas Cavaliers to support their mission of helping the children of San Antonio.
View the 2023 River Parade program
---