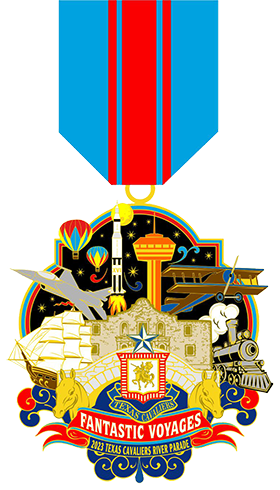 The Texas Cavaliers 2023 River Parade Medal is now available for purchase
This year's theme is Fantastic Voyages, celebrating everything from the discovery of the new world to the discovery of new worlds. From voyages across the country to voyages across the world life is a voyage in itself. Please help us celebrate all our voyages by purchasing your 2023 River Parade Medal!
Order 2023 River Parade Medals
2023 'Fantastic Voyages' River Parade Medals are now available!
We also have past River Parade Medals still available for purchase.
2023 Texas Cavaliers River Parade Medals will be available for purchase at the Fiesta Commission Store when it opens for 2023.
You may also purchase medals by calling the River Parade Ticket Office at 210-227-4837
2023 Parade Medals ($10)
2022 Parade Medals ($8)
1996-2021 Parade Medals or Pins ($6 ea)
Call 210-227-4837 to order past medals and pins. See quantities available below.
River Parade Medals
2022 - Texas Alfresco (Texas Outdoors)
Lots available!
2020-21 - 20/20 Vision
Lots available!
2019 - Showtime in San Antonio
150 available
2018 - Magnicifent Missions
65 available
2017 - Kaleidoscope
120 available - 6 pins
2016 - River of Champions
32 available

2015 - Believe
11 available - 10 pins
2014 - River Wild
2 available
2013 - Stars on the River
150 available - 102 pins
2012 - Rockin on the River
sold out
2011 - Imagine
22 available
2010 - River of Dreams
sold out
2009 - Celebrate Texas
14 available
2008 - Rio Holiday
sold out
2007 - Red Carpet River
7 available
2006 - Celebra Canciones
24 available
2005 - Rio Festival
13 available
2004 - Luces Del Rio
25 available
2003 - Discover the World
8 available
1998 - Celebration of Cinema
45 available
1996 - The Magic of Fiction & Fantasy
17 available