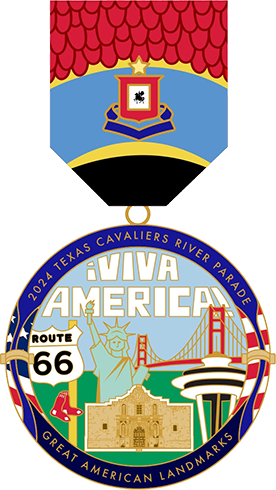 The Texas Cavaliers 2024 River Parade Medal is now available for purchase
The parade theme of the 2024 Texas Cavaliers River Parade is ¡Viva America!: Great American Landmarks. "Viva America" is a joyful exclamation that includes the spirit of unity, diversity, and pride that our country represents. It's a call to celebrate the land of the free and the home of the brave, where dreams are nurtured and freedoms are cherished. But we're taking it a step further by paying homage to the magnificent landmarks that have left an unforgettable mark on the American landscape. These landmarks are more than just physical structures; they are a testament to the ingenuity, creativity, and perseverance of the American people.
Purchase 2024 Texas Cavaliers River Parade Medals by calling the River Parade Ticket Office at 210-227-4837
2024 Parade Medals ($10)
2023 Parade Medals ($8)
1996-2022 Parade Medals or Pins ($6 ea)
Call 210-227-4837 to order past medals and pins. See quantities available below.
River Parade Medals
2023 - Fantastic Voyages
Lots available!
2022 - Texas Alfresco (Texas Outdoors)
Lots available!
2020-21 - 20/20 Vision
Lots available!
2019 - Showtime in San Antonio
150 available
2018 - Magnicifent Missions
65 available
2017 - Kaleidoscope
120 available - 6 pins
2016 - River of Champions
32 available

2015 - Believe
11 available - 10 pins
2014 - River Wild
2 available
2013 - Stars on the River
150 available - 102 pins
2012 - Rockin on the River
sold out
2011 - Imagine
22 available
2010 - River of Dreams
sold out
2009 - Celebrate Texas
14 available
2008 - Rio Holiday
sold out
2007 - Red Carpet River
7 available
2006 - Celebra Canciones
24 available
2005 - Rio Festival
13 available
2004 - Luces Del Rio
25 available
2003 - Discover the World
8 available
1998 - Celebration of Cinema
45 available
1996 - The Magic of Fiction & Fantasy
17 available