Texas Cavaliers News & Profiles - Summer 2019 issue
I can think of 1.5 million reasons why Fiesta was so great this year! Because of the generosity of Cavaliers and friends, King Antonio Roger Hill III handed out $1.5M to 67 carefully vetted charities. Many people made this possible, but the big accolades belong to Scott Christy, our 2019 River Parade Marshal. His personal efforts and those of his River Parade team to secure sponsorships, matching funds, and outright donations were extraordinary.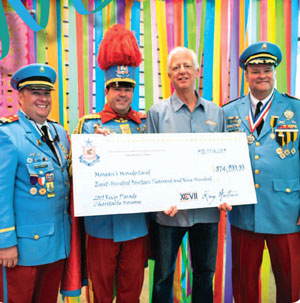 Gifts included a check of over $800K to Morgan's Wonderland. To put this in perspective, when I served as the Night Aide to King Antonio LXXVII, Jack Hebdon, Jr., 20 years ago, the total amount we distributed was less than 5% of the amount given to Morgan's Wonderland!
When I visited St. PJ's Children's Home with King Antonio, we took a photo of the King's entourage at the spot where the Texas Cavaliers Welcome Center will be constructed. The TCCF awarded $50K last fall to St. PJ's and another $70K has been matched.
St. PJ's needs $150K total, and I hope we can find the additional $30K in matching funds for this wonderful project. If you can help, please contact the TCCF office.
TCCF Trustees have completed the careful and diligent review of 83 grant applications and we are honored by the trust you place in us to do this work on your behalf.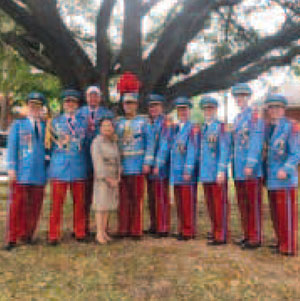 I am proud of the impressive evolution of the TCCF, what it has accomplished, and what the future holds. It is an honor and privilege to have served as a Trustee and President. I thank Commander Phil Bakke for welcoming me to the Texas Cavaliers Board; Scott Christy for including me in his River Parade efforts; and the entire Texas Cavaliers Board for their support. I also thank Nick Campbell and Bill Mitchell, who represented the King's Council on the TCCF Board, and the Class Representatives. Finally, thanks to my fellow Trustees who made this past year memorable, to Billy Freed, immediate Past President for his years of service and guidance, and a special thanks to Shannon Nisbet for everything she did to make my job easier and pleasurable. Vince Dawson will be taking the reins, and I know he will lead the TCCF to new heights that will bring even bigger smiles to kids, including our kid emeritus, Fred Middleton.
Remember, It is for the Kids.
Bill Hinchey, M.D.
President
---
Summer 2019 issue of the Texas Cavaliers Foundation News & Profiles.
Keeping you updated on a grant recipient, a profile on "One of the Good Guys in Blue Suits" and short notices of interest.